Conservatories in Leeds
Conservatories in Leeds are the perfect fit for family homes looking to add more space. The vast amount of glass that is used in a conservatory makes them a great choice for a variety of purposes. You can enjoy the additional space and light form many years and can even change the function of the room as your family grows or your priorities change.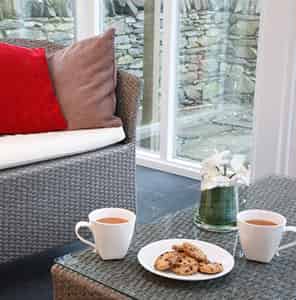 Room Functions
There are plenty of ways you can use your conservatory so that it works harmoniously with your lifestyle.
Consider using it as a dining room that overlooks your garden area and you could eat dinner under the stars. How about a living room where you can enjoy family time together watching TV in the evening?
You could even dedicate it to the children turning it in to a play room where they can run around between the garden and conservatory. Why not use it as a personal gym, you can store your gym equipment and enjoy the fresh air whilst working out. The choice is yours.
Conservatory Furniture
There are a whole host of furniture options you can consider when making your new conservatory part of your home in Leeds.  Choosing the right furniture is important as it may have to be multi-functional or may only be used on special occasions.
If you're looking to create a relaxing ambience, you should use soft furnishings, sofas, cushions, a rug, even some plants and a bookshelf will make it a great place to read in and unwind.

The flooring is a crucial aspect to think about as it gets used often as access to your garden. Make sure you choose something that is hard wearing and easy to clean so you don't ruin it. Laminate or tiles are a great option.
Window dressings such as blinds make a great addition to any style of conservatory. The perfect way of keeping your conservatory in Leeds cool. You can use blinds on both the windows and the ceiling to shade your room from becoming too hot.