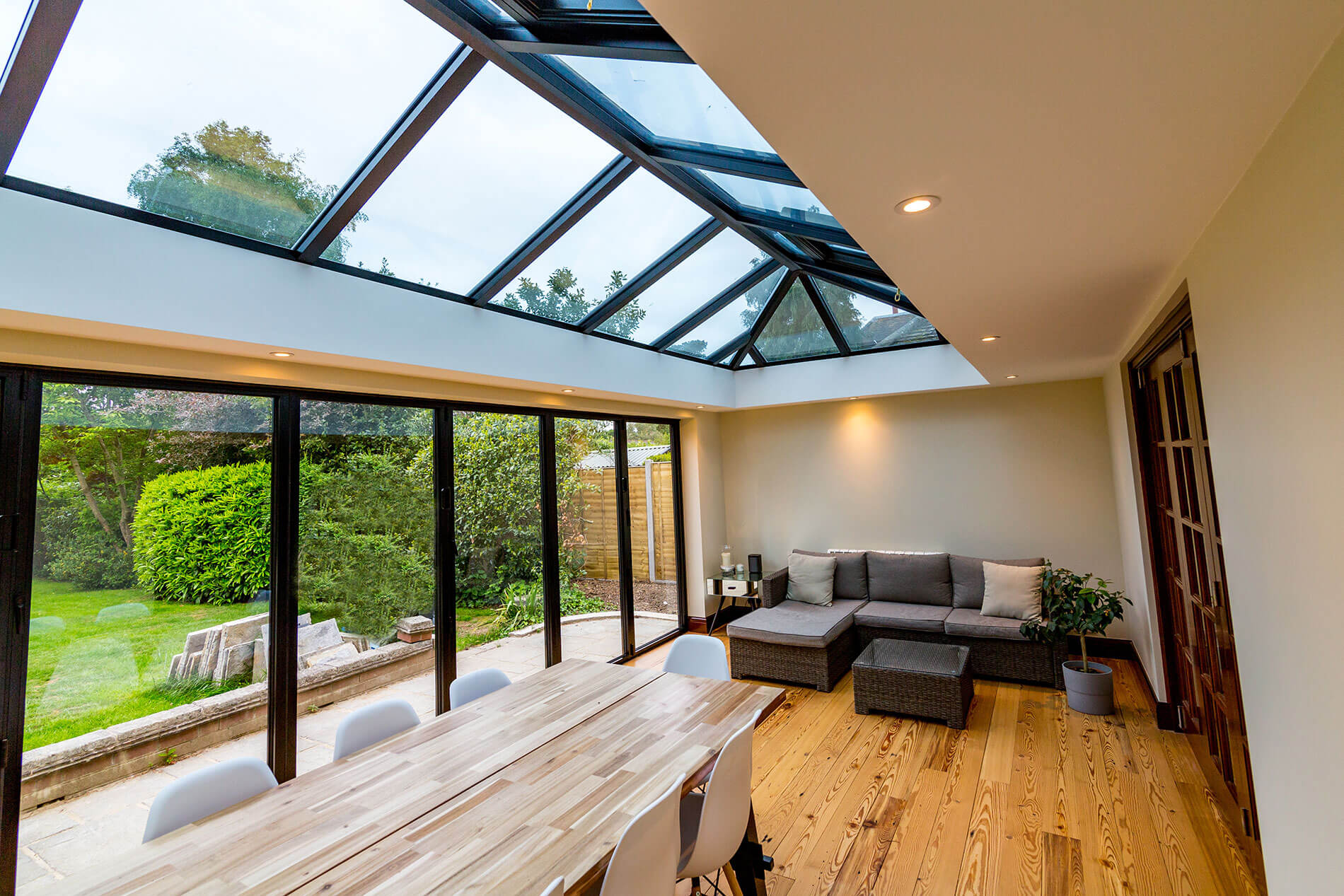 Installing a high-quality conservatory into your Harrogate home is an easy, and beautiful way to enhance the space, light and function of your property. Here at Select Products, we are happy to offer a standard of conservatory that will not leave you wanting. We specialise in customer satisfaction, and we deliver every time.
Our exceptional conservatory range is available in a variety of styles, including the Victorian Conservatory, Edwardian Conservatory, Lean-To Conservatory, Gable-End Conservatory, Bespoke Conservatory and the Orangery Conservatory.
High-Quality Conservatory
Beautiful Aesthetic
A high-quality conservatory can bring period charm or contemporary flair to any type of Harrogate home. Whether you're looking to bring a classic feel to your home, or if you're looking to bring a modern element to your home, we're the choice for you.
Featuring multiple facet designs, beautiful finials and a range of floor plans, our conservatories are sure to thrill any Harrogate homeowner, and their aesthetic versatility means that they can cater to all tastes and preferences.
High Performance
Not only do our conservatories please the eye, but they will also keep you warm, dry and secure. Featuring superior gaskets, exceptional thermal efficiency and high security, shootbolt locking systems, our conservatories will keep you covered across the board.
The shootbolt conservatory locking system ensures that any and all would-be Harrogate intruders are kept outside your home where they belong. The installation of these locks means that any access point into your conservatory, i.e windows and doors, will be secured to the highest standard.
Adaptable Design
To ensure all Harrogate homeowners are catered for, our conservatory range can be fitted in a range of styles and sizes to fit any and all properties. This means that you are not limited by your tastes, and any conservatory we offer can be fitted expertly and efficiently into your Harrogate home.
Here at Select Products we always put you and your needs first. Our conservatory range means you won't have to compromise on size, style or design. We'll make our conservatories work for you and your Harrogate home, not the other way around.
Conservatory Styles
Victorian Conservatory
The Victorian-style is a beautifully ornate, and popular choice throughout Harrogate. Available in a 3 to 5 facet design, the Victorian design allows you to create a small cosy space or a large open living area. The choice is yours, with Select Products.
Utilising the Ultraframe design, we only manufacture using the latest in uPVC innovation and design. This ensures that they not only offer high standards of security, thermal efficiency and weatherproofing, they also guarantee a long lifespan. The Victorian-style will prove itself to be a worthwhile investment for your Harrogate home.
The aesthetic of this option is wonderfully versatile, which allows it to fit seamlessly into all types of Harrogate property, whether they be traditional or contemporary. Their multiple facet design enables them to effortlessly bring large amounts of light and space to any property and will ensure complete satisfaction throughout.
Edwardian Conservatory
The Edwardian design features a square design that enables maximum floor space. This is an ideal alternative to the Victorian option as it enables Harrogate homeowners to add a traditional flair to their property but instead sports a simpler, subtler design.
Because the Edwardian style has a universal aesthetic, it can be fitted gracefully into any and all Harrogate homes. The double hipped roof design also means that you can tailor the roof height to your home, and can ensure that you get the most space available.
All of our Edwardian Conservatories utilise the exceptional Ultraframe design, which guarantees outstanding standards of thermal efficiency, security, durability and aesthetic. Get the best, with Select Products.
Lean-To Conservatory
Our Lean-To option is a cost-effective, versatile and aesthetically pleasing option for any Harrogate homeowner. Often referred to as a Mediterranean sunroom, the clean, crisp lines ensure a beautifully European appearance, whilst the design ensures large amounts of natural light and enhanced views.
This design features a low pitched roof than can be tailored to your Harrogate Home. This means that you need not fear if you any awkward or unconventional spaces, the lean-to will have you covered.
In order to fit in with your home aesthetic, all of our lean-to conservatories are available in a range of colours and finishes. You can choose from 'Classic White', 'Light Oak', 'Mahogany', 'Rose Wood' as well as a range of bespoke colours. This ensures that our Ultraframe Lean-To will not only guarantee high performance, they'll also be easy on the eye.
Gable-End Conservatory
Looking for a home extension the specialises in grandeur and space, whilst simultaneously bringing a large amount of light into your home? Then the gable-end conservatory is the right choice for your Harrogate home.
The gable-end style effortlessly combines a high-pitched, front elevation roof with a square or rectangular floor space to maximises living space and light allowance. The impressive structure of this style, as well as its traditional charm, make it the perfect choice for larger or more period Harrogate homes. That said, the gable-end option will be a beautiful addition to any Harrogate property.
Featuring all the conservatory innovation of the Ultraframe design, a gable-end conservatory from us will ensure exceptional standards of security, thermal efficiency, durability and appearance. With Select Products, you're guaranteed satisfaction.
P-Shaped Conservatory
The p-shaped design is a great way to enhance the space and functionality of your Harrogate property. The shape is achieved by combing a lean-to with a Victorian design, which means you'll have two extra living spaces to utilise. How you use these spaces is up to you, a dining area and playroom? An office and a gym? The options reach far and wide.
In order for this option to complement your home perfectly, it is available in a wide range of colours, finishes, design features and glazing options. You can also achieve a beautifully classic timber look whilst benefitting from all the qualities of uPVC. This means that you'll experience fantastic levels of durability, thermal efficiency and security without any maintenance setbacks.
An affordable, beautiful and grand addition to any Harrogate property, experience complete contentment with Select Products.
Bespoke Conservatory
Our bespoke range utilises the beautiful selection from Loggia conservatories, featuring Loggia Prestige, Loggia Premium and Loggia Ultimate. This enables all of our bespoke conservatories to not only accommodate your tastes and preferences but to deliver high performance whilst they're at it.
Choosing a bespoke option from Select Products is the perfect way to install a conservatory into your Harrogate home that perfectly matches your tastes and preferences. We'll tailor them to you and your property, and you won't be left wanting more.
Orangery
An orangery is a beautiful way to bring an increased living space that enhances natural light but doesn't compromise on security. Consisting of a larger amount of brickwork than your usual conservatory, the orangery reduces sightlines into your home without sacrificing views or light.
An Ultraframe orangery from us is available in two styles; Traditional Orangery and LivinRoom Orangery. The traditional orangery combines all the classic elements of an orangery with the benefits of modern innovation. Whereas, the LivinRoom orangery features a classic conservatory roof and a state of the art perimeter ceiling.
This means that the LivinRoom design effortlessly combines the best of an orangery and conservatory. Get the perfect balance with Select Products.
Conservatory Prices Leeds
Interested in our exceptional conservatory prices? Get a free online quote from us today, and see how advantageous competitive pricing can be for your Harrogate home.
Need more information? Don't hesitate to get in contact via our online enquiry form, where one of our friendly team will always be ready with a prompt and informative answer to any questions you may have.