Conservatory Range in Leeds
With spring just around the corner, now is the perfect time to start planning that dream conservatory you've been promising yourself all these years. Make the most out of Summer 2016, invest in a bespoke made to measure conservatory. Wouldn't it be lovely to spend a lazy summers evening, enjoying a drink with some friends in your very own conservatory?

Here at Select Products, we offer the highest quality tailor made conservatories on the market. When you buy from us, you get the professionalism of an established family run business, who are committed to providing bespoke conservatories throughout Leeds and the surrounding areas.
Here at Select Products, we pride ourselves in providing customer satisfaction, competitive prices and the conservatories made to your specifications. We believe this highlights us as one of the UK's most trusted and qualified conservatory installers.
Our dedication to customer satisfaction can be seen through our excellent checkatrade account. We boast an almighty average score of 9.8 out of 10! With these top end results, and our commitment to building the highest quality, made to measure conservatories available, we can install your dream conservatory at a highly competitive price.
Which Conservatory Would Suit Your Home?
Here at Select Products, we boast an extensive range of conservatories. Why not base your dream conservatory on one of our fifteen designs? Remember, we are experts in fitting tailor made conservatories throughout Leeds and the surrounding areas. So, if by chance you can't find what you're looking for on our website, it's always worth contacting us anyway. It's more than likely that we'll be able to work with you to install your dream conservatory.
Or, alternatively, why not come down and see us in person at one of our purpose built showrooms? Our in house team of experts will be more than happy to talk you through our vast range of products, take you through the installation procedure and even give you a rough estimate on how little your dream conservatory will cost you.
Find us here
57 Rodley Lane
Leeds
LS13 1NG
So, now for the fun part! Which conservatory style would maximise the charisma of your Leeds property?
Victorian
Our Victorian Conservatory is the number one choice for those seeking, and appreciating the traditional conservatory look. A classic, cliché style of British design, this attractive conservatory benefits from modern energy efficient technology and along with a classic design. The Victorian Conservatory comes from a time where style was everything. A distinct modern twist on a traditional design. A Victorian Conservatory instantly adds character to your home, looking beautiful on both new and old properties.
Relax and enjoy a full panoramic view of your garden all year round. Victorian Conservatories are constructed from three or five energy efficient facet bays, which project outwards.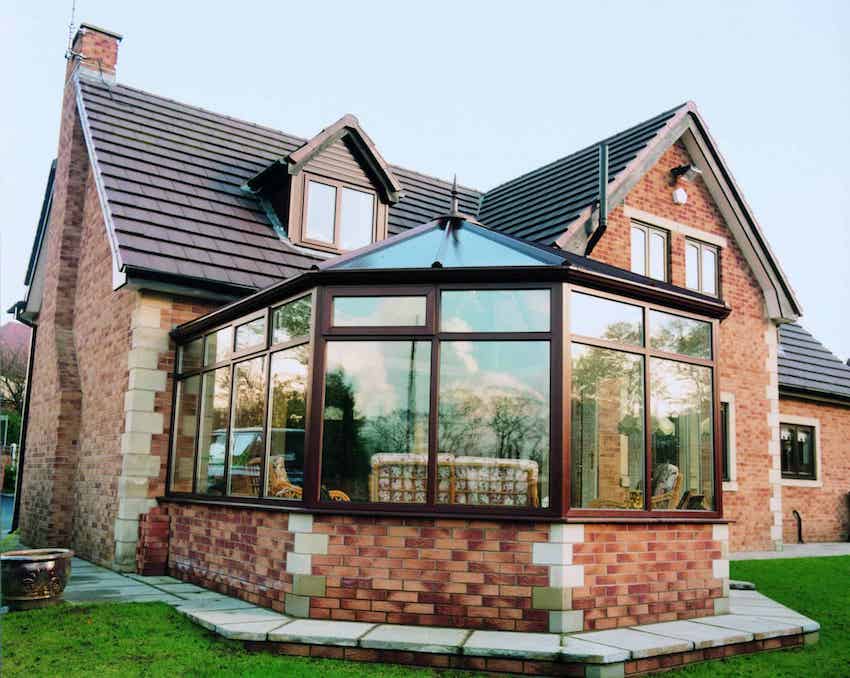 Edwardian
An Edwardian Conservatory is the pinnacle of simple, yet classic design. An Edwardian Conservatory is one of few designs that simply blends in, complementing almost any styled property.
Unlike the Victorian design, the Edwardian benefits from a more simplistic design. Four walls of glass help the conservatory to blend immediately into your home, the perfect way to gain instant extra floor space? We think so!
The sloping roof is a brilliant solution to drainage and water flow. Create the illusion of extra space, a minimal maintenance Edwardian conservatory.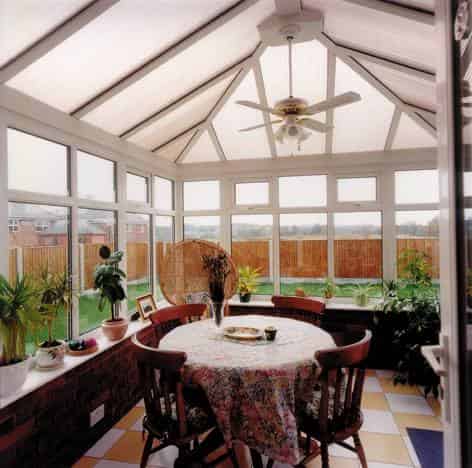 Lean-To Conservatories
Are you after a simple yet contemporary design? Our Lean-To Conservatory could be just the ticket! A Lean-To design is attractive, yet subtle, and therefore never overpowering when added to your Leeds property.
The Lean-To Conservatory is the ideal solution for anyone wishing to fit a conservatory into a smaller area, a bungalow or terraced property for example. Finally, the Lean-To conservatory benefits from multi purpose use. Your brand new conservatory is ideal for everything, from a spacious utility room, office, or even a green house.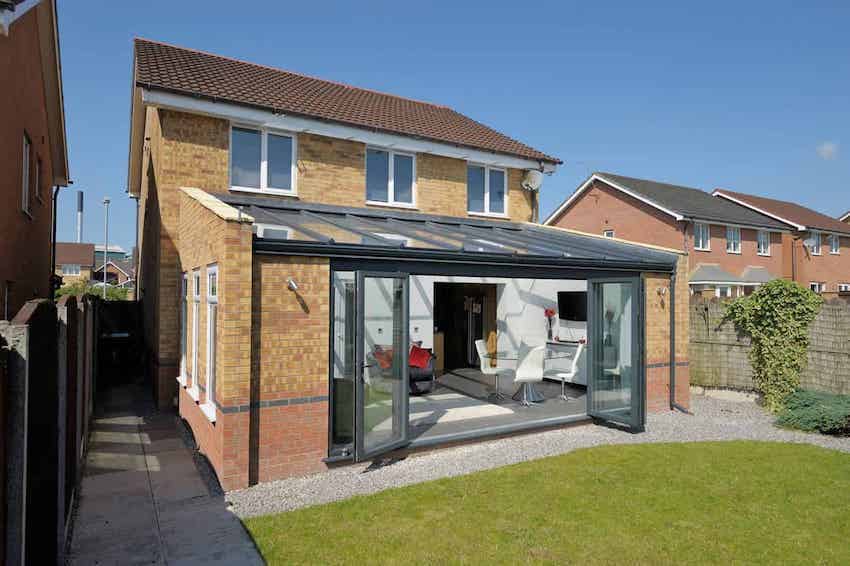 P-Shaped
P-shaped Conservatories are one of the grandest available from, Select Products.  The P-Shaped gets its name by being a combination of two of our other styled conservatories. Namely, the Victorian and the Lean-To.
A mixture of simplicity and flamboyance, a genuinely impressive and attractive Conservatory. The shear size of the P-Shape makes this conservatory best suited for larger, detached properties.The P-Shape is commonly used as a cost affective and energy efficient property extension. There's easily enough space inside for this conservatory to be used as a multi purpose extension, say dining room meets office? Or kids room meets utility?

Gable
 A Gable is the perfect example of a stand alone, sought after piece of British engineering. The Gables grand appearance complements period properties, and never fails to add a touch of class.
Remember, Select Products construct our entire range of conservatories to your specifications.  Our team of in house professionals take the time to understand what you want your Gable Conservatory to be used for, what type of styling you believe highlights the aesthetics of your property.
Why go to all the trouble? To deliver total customer satisfaction from a Conservatory you will enjoy all year round.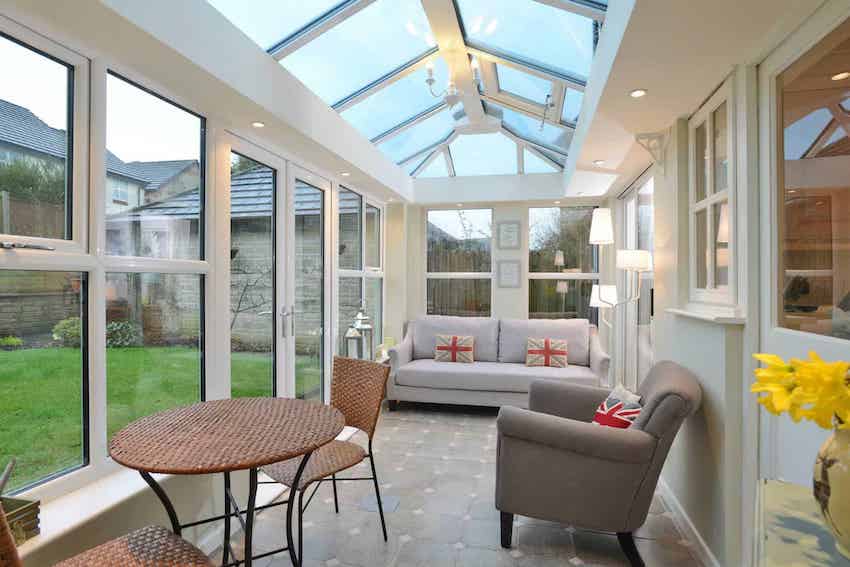 Orangeries
 Tired of seeing the same, stereotypical conservatories? Looking for something slightly more exclusive and executive? Orangeries are a grand alternative to traditional conservatories.
Select Products offer stunning tailor made Orangeries throughout Leeds and the surrounding areas. Much like the Gable, Orangeries look their finest when installed to larger homes. That said, Select Products can design Orangeries to fit into smaller properties.
Orangeries offer superior privacy with their stunning brick pillar finish. They truly are a huge upgrade from a traditional, an affordable extension to your Leeds property.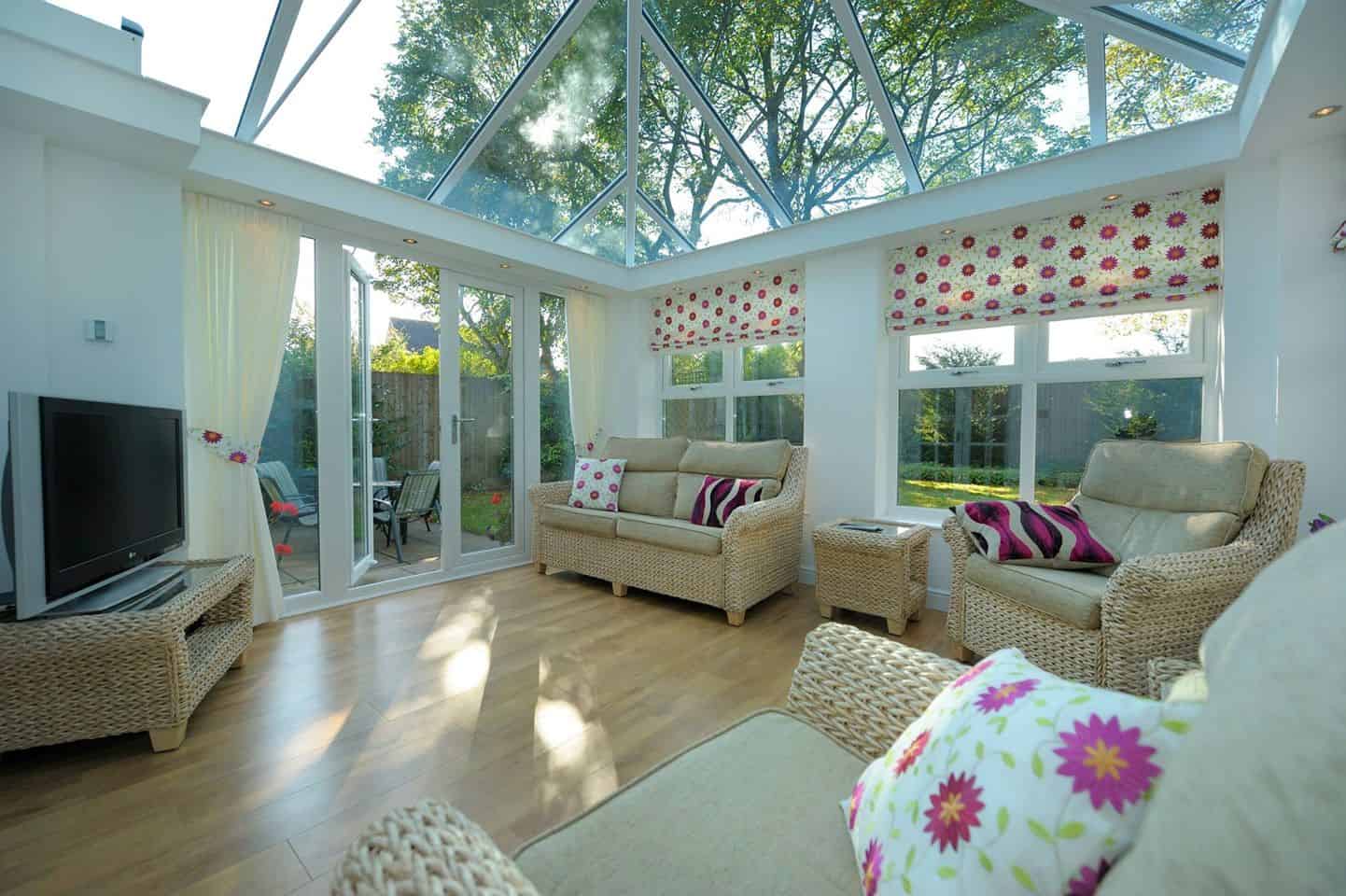 Conservatories and Ultraframe
Select Products offer an enormous selection of hand finished, made to measure conservatories, throughout Leeds and the surrounding areas. We install Ultraframe roofs on our conservatories, but why? Ultraframe manufacture the best conservatory roofs on the market. Ultraframe conservatory roofs are thermally insulating, attractive and are highly adaptable.
Ultraframe have been busy designing and building the highest quality conservatory roofs since the 1980's. An initiative company who spotted that 'modern' conservatory designs would be both lightweight and strong, a massive leap forward from conservatories of old.
What's more, Ultraframe knew the demand for these new styled conservatories would be enormous, meaning their product would have to be totally adaptable to meet the huge demands. To date, Ultraframe have sold more than one and a half million conservatory roofs.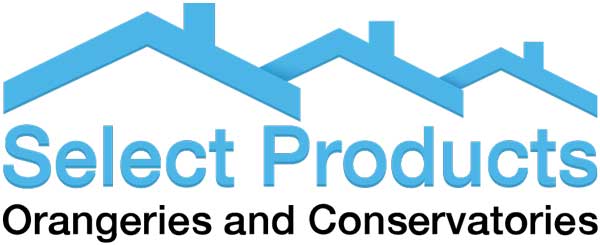 Online Quote
Is 2016 the year that you invest in a made to measure conservatory for your Leeds property? Or, are you simply curious to discover how a little a conservatory would cost you?
Why not use our free online quote engine? It's fast, and ever so easy to use. Simply fill out the online form to start your quote today. If you require more information you can also fill out our online enquiry from, for a quick and informative response.
Alternatively, why not give us a call? Our team of experts are only too happy to talk you through the installation process, which styled conservatories would go best with your property, or give you an estimate over the phone.
Reach us on – 0113 2578933