Gable Conservatories
Gable conservatories, also known as gable end conservatories are a fantastic conservatory in Leeds that comes with a high-pitched front elevation roof and a square or rectangular floor space. A perfect choice if you want to make the most of your available space by allowing ample amounts of natural sun light and fresh air to enter.
When it comes to creating a sense of grandeur, nothing compares to the stately elegance of the Gable conservatory. With its impressive structure and period charm they make a perfect addition to larger and more period properties in Leeds.
There are a variety of options you could consider when selecting a new gable end conservatory in Leeds. This includes building work, glazing options, colour choices and roof decisions. Select Products can work with you to create your dream gable conservatory.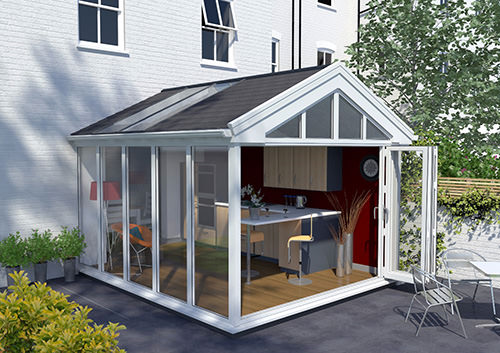 Gable End Conservatory Designs
Each gable conservatory Select Products installs is lovingly tailor made to meet your specific requirements. Supplied by Ultraframe you can choose from glass or polycarbonate roofs or even upgrade to a solid roof for complete energy efficiency and weather protection.
Commonly known as the sunburst or rising sun design, the gable roof provides a stunning and elegant appearance from the inside and out thanks to the high apex. The style mirrors that of opulent orangeries and original conservatories of the Georgian era.
If you would like to have a conservatory that blends seamlessly into your existing property and give the appearance of a costly extension but at the price of a conservatory, then consider incorporating additional brickwork into the design. A three quarter wall or a full height wall on one side will create a focal point for the room and make it really feel part of the house.
Conservatory Colours and Glazing
There are a whole range of conservatory colours and finishes that you can choose from to make the perfect gable end conservatory that's right for your home. White is the most popular and cost effective colour option but there are plenty of other options. These include Light Oak, Mahogany, Woodgrain or Rosewood. You could also opt for coloured foils such as Fir Green, sage Green, Irish Oak or Black. We've got something for everyone.
You may also wish to consider a bespoke glazing option, such as Georgian bars, leaded squares or leaded diamonds. The type of glazing you choose could determine the level of energy efficiency you receive. The higher the Window Energy Rating the greater the thermal efficiency of your new conservatory. Locking in the warmth from your central heating will be beneficial if you plan on using your conservatory during the winter months.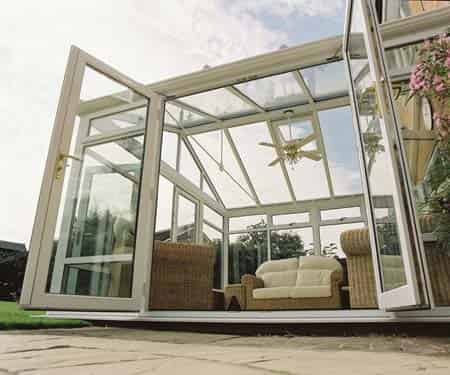 Conservatory Quote
Calculate your instant online quote for gable conservatories in Leeds and discover how much you could be saving on your latest home improvement from Select Products. It is understandable that the cost of your new gable end conservatory will differ depending on the size, design features and specification.
You'll be able to see an estimate from our quoting engine based on the information you enter. It's so quick and easy to use – all you have to do is select your conservatory style, enter your postcode and your design options and you'll see your online quote in minutes.